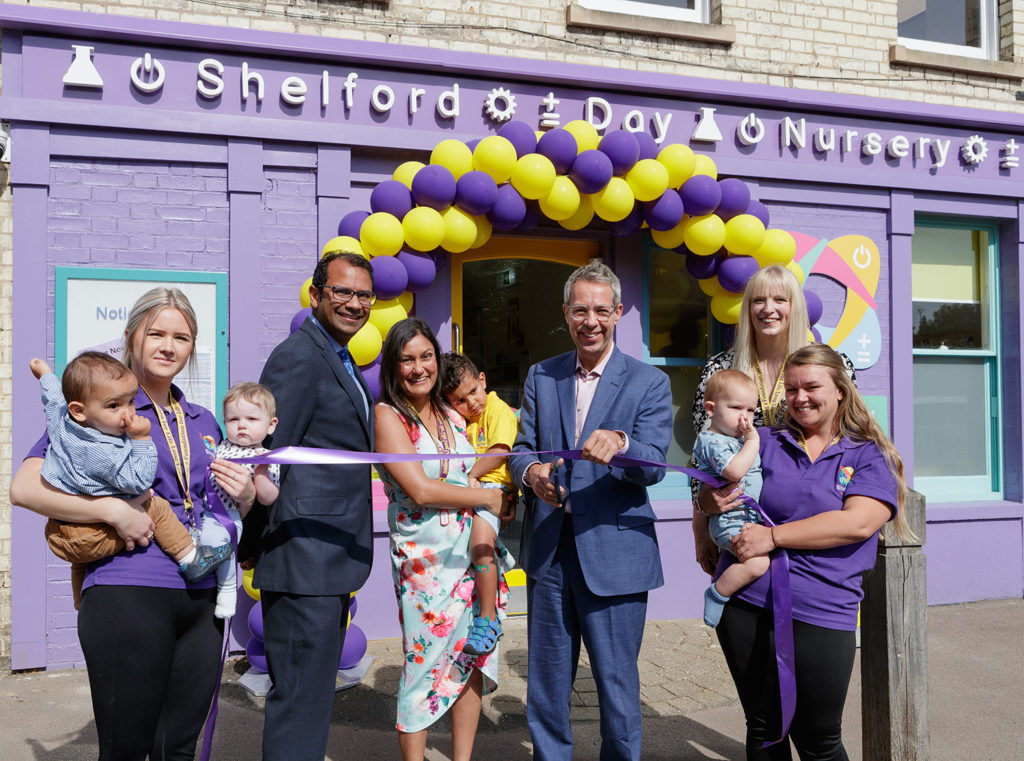 A leading scientist was the guest of honour at the official opening of a new nursery in Cambridgeshire specialising in STEM education and learning for early years children.
Prof Sir Mene Pangalos, Executive Vice President for BioPharmaceuticals R&D at AstraZeneca, cut the ribbon to officially open Shelford Day Nursery, Great Shelford.
The nursery offers a unique science, technology, engineering and mathematics curriculum in a specially-designed building offering interactive indoor and outdoor learning spaces.
Mene said: "It was a real pleasure to visit the nursery and see the children playing and learning in such a stimulating space.
"Giving children the opportunity to learn through practical play, to experiment and to be creative is wonderful, and I hope the nursery will inspire many children to discover a lifelong passion for STEM subjects and their wider education."
The nursery, in a former bank building in High Green, Great Shelford, will eventually cater for up to 59 children ranging from babies to toddlers and pre-school children.
Interactive learning is a major focus, with children able to enjoy outdoor spaces featuring a range of activities and materials.
Children have the opportunity to experiment with interactive water features, discover properties of different materials in sand and gravel pits and even develop their first engineering skills in a 'construction zone'.
There is still a place for traditional childhood games, with activities like hopscotch used to develop maths skills.
And children can gain first-hand experience of the force of gravity on a slide plunging from the first floor of the nursery to the outdoor learning space on the ground floor.
Inside the nursery, children have access to the latest technology, including interactive touch tables and a sensory room featuring colourful lighting and interactive fibre-optic installations.
Nursery Manager Deborah Parfitt said: "The first group of children who have started at the nursery have been having so much fun exploring the space and learning through play.
"It was lovely to welcome guests into the nursery so they could see how well the children interact with the space.
"We're very grateful to Sir Mene Pangalos for taking the time to visit us and find out more about the unique education we offer."
The £800,000 project was supported by Growth Works, the strategic economic growth programme launched by the Cambridgeshire & Peterborough Combined Authority and Business Board to support businesses to accelerate and sustain their growth through consultancy and expertise, workforce skills development, and inward investment.
For more information, visit shelforddaynursery.org